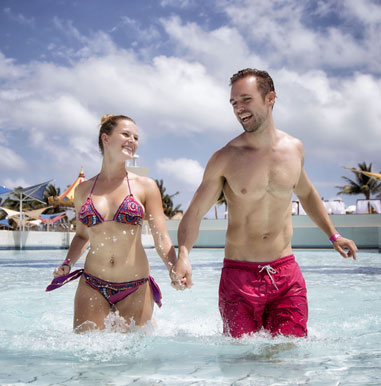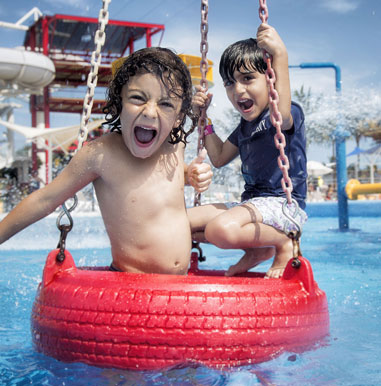 Attractions:
Bubba Tub
Double Space Bowl
Kamikaze
Kids Park
Lazy River
Wave Pool
Twister
Wet Bubble
Wet'n Wild, Cancun's Best Water Park!
Here you can experience the most thrilling waterslides in Cancun and other amazing water activities you won't find anywhere else in the Hotel Zone.Spend an entertaining day with thrilling drops, exciting curves and gushes of water for a unique adventure and a memorable vacation experience.Whether you want thrills or time to unwind, here at Wet'n Wild Cancun, you can entertain the entire family in a setting with maximum safety and comfort.
Thrilling Water Slides:
Twister: Hop in a 2-person inner tube and hang on while you race down this twisting slide at sensational speeds!
Kamikaze: Feeling bold? Get a dose of pure adrenaline on this steep speed drop that features refreshing streams of water for a thrilling experience.
Bubba Tub: Have a blast with the whole family in a giant inner tube (max 4 people) as you slide down 6 floors of fun with surprising dips and a refreshing landing.
Double Space Bowl: How brave are you? Find out with our double space bowl that slides down a spine-chilling 50-foot drop at a rousing 30 mph! Your bravery is rewarded at the end with an invigorating dive into a 10-foot pool.
Relaxing Options:
Lazy River: If you prefer to chill out, Lazy River is the perfect choice for you. Sit back and float along the calm, and tranquil river while taking in the beautiful scenery. Enjoy pure relaxation under the Caribbean sun for over 330 yards.
Wave Pool: What if you enjoy swimming in a pool, but miss the ocean's waves? Don't sweat it. Wet'n Wild Cancun has you covered with their innovative Wave Pool that generates waves up to 3 –feet high!
Wet'n Wild Cancun is a place for the whole family to enjoy—even the little ones! Here they get to safely enjoy the pool without having to worry about bumping into larger adults. Here at Kids' Park, with their very own kids' pool, they will have everything they need to have the time of their lives. (And don't worry, there's always a lifeguard on duty!)
Wet Bubble: Does your kid enjoy a challenge? Here at Wet Bubble, they can climb to the top of the bubble and be rewarded with a fun slide back down that ends with a splash.
Give you and your family a break from the hot Cancun sun with the only water theme park in the Hotel Zone with Wet'n Wild
IMPORTANT INFORMATION
Minimum height:
Kids Park 1.07 mts max.
Kamikaze 1.22 mts.
Bubble Up 0.95 min. – 1.50 max.
Twister, Double Space Bowl, Bubba Tub: 1.07 mts.
Please bring a bathing suit, sandals, towel and money for photos, souvenirs, locker rental, single inner tubes, and towels.

Biodegradable sunscreen is recommended.

Visitors must follow the instructions at all of the attractions.

Children under 7 years of age must be supervised and/or accompanied by an adult at all times.

For visitor safety, our lifeguards are certified by the Mexican Red Cross.