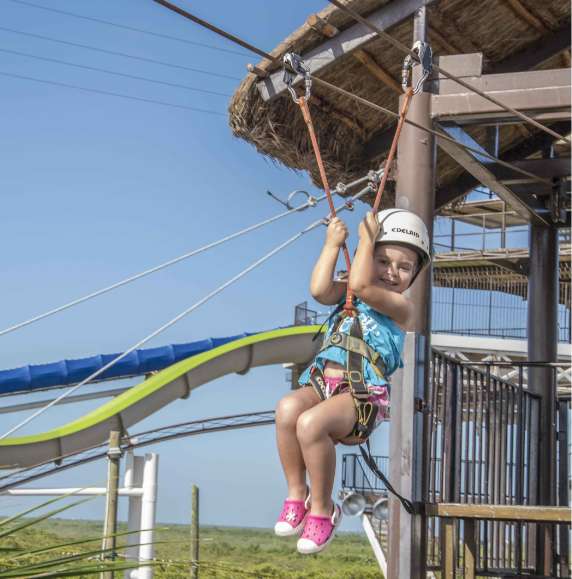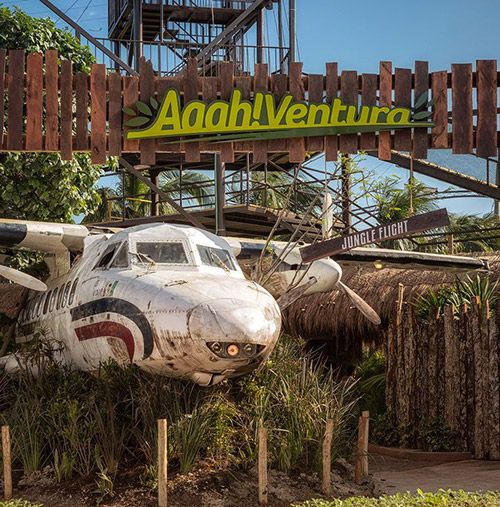 Attractions:
River Zip Line
Skywalk
Step Up
Bungee Swing
Aaah!Ventura: Get your Tarzan on, with these Amazing Cancun Adventures
Shout like Tarzan on this incredible Hotel Zone adventure filled with heart-pounding challenges.
Get your adrenaline pumping at full blast with the only ziplines in the Cancun Hotel Zone. Then conquer your fear of heights on our hanging aerial bridges with a staggering 65-foot drop!
Aaah!Ventura is sure to give you and your family the exciting Cancun adventure you've been seeking.
ATTRACTIONS*
Tarzania: Here's something you've never seen before. What do you get when you combine a roller coaster and an 800-foot zip line? A crazy and innovative ride like no other!
Caribbean Zip: Traverse across the entire park at an impressive height of 80-feet on these 4 side-by-side zip-lines.
River Zip Line: Two rows of zip-lines will take you on a 800-foot round trip ride over our famous Lazy River.
Escape Challenge –Skywalk North/South: Ever seen those rickety, wobbly bridges in movies? Do you dare to walk across our 6 hanging bridges? Here's a tip: don't look down!
Netland: A bridge course made just for kids & the young at heart; make your way across 9 bridges surrounded by nets on this safe yet adrenaline-filled adventure.
Step Up: An activity that tests your skills as you climb up higher and higher trunks, while anchored to a safety system the entire time.
FREE FALL STATION
Bungee Swing: Half free fall madness, half swinging pendulum. Strap on, and hang on for a 46 foot drop that is sure to get your heart pumping!
Heli Jump: Want to shorten your bucket list? Conquer fear by bungee-jumping into the unknown at a height of 72 feet! (Not recommended for people with heart conditions)
Go to Aaah!Ventura for the ultimate Cancun adventure you and your family will talk about for years afterwards
*All activities are subject to availability
IMPORTANT INFORMATION
Children under the age of 7 must be supervised and/or accompanied by an adult at all times.
Footwear required.
Shorts, and shirt is required.
Minimum height:
Tarzania,Caribbean Zipline, HeliJump, Skywalk, Step Up:

5 feet

River Zipline, Free Fall Station, Bungee:

3.5 feet
Visitors must follow the instructions at all of the attractions.
Children under 7 years of age must be supervised and/or accompanied by an adult at all times. Everyone must wear shoes, shirt and shorts.
Availability subject to inclement weather.
All activities at Aaah!ventura use the most advanced systems in construction, operation and professional equipment. The aerial systems have been developed to surpass what ACCT guidelines call for (Association for Challenge Course Technology). The above activities will run during set hours and might not all run simultaneously.