What to do in Cancun
There are many things to do in Cancun besides drinking at the beach (although let's face it, when you're on vacation, that's always a fun option). But maybe you've had enough margaritas at Playa Delfines, and now you're thinking: what now?
Here are 11 different and exciting suggestions for what to do in Cancun.
Helicopter Tours:
Cancun's Hotel Zone is the perfect place to take a helicopter tour. They have great prices and the view you get is unforgettable. You can even view sea-turtles swimming in the ocean from all the way up there! There's only one way to truly appreciate the vastness of hotel and beach options Cancun has to offer, and that is from the aerial vantage point of a helicopter.
Jetboat Tours:
What can only be described as the "roller coaster of the sea", a jetboat tour involves speeding across the Caribbean ocean in a specialized speedboat that performs 180/360 degree spins, tsunami submersions that involve plunging the front of the boat down into the water, and of course, high-speed wave-hopping.
Deep Sea Fishing Tours:
Cancun is known for its excellent fresh seafood, so it's no surprise it offers outstanding options when it comes to Deep Sea Fishing tours. Enjoy the stunning seascape while sipping on a beer and fishing for a variety of fish including: Blue or White Marlin, Atlantic Sailfish, Mahi Mahi, Black-fin Tuna, Grouper, Snapper, and Barracuda.
Of course, everything depends on the season, so check beforehand. Many services include bringing back your catches to a local seaside restaurant to get your catch cooked professionally with local flavors and spices.
Kite Surfing:
In case you haven't seen this before: Kite-surfing is a kite, which looks like a parachute, attached to a surfboard with you on top. If you aren't experienced, there are private lessons available. Although the wind conditions have to be right, the speed and jumps you can make are stunning & impressive.
Scuba:
If you have your Scuba license there are plenty of places to go scuba diving in Cancun. Be prepared to see a wide variety of sea life, ranging from sea turtles, stingrays, squids, and of course, tropical fish.
Snorkeling
If you don't have your scuba license, you can try snorkeling, which is inexpensive, safe, and very easy to do for all ages.
Snuba
Some places offer a midway option in between scuba and snorkeling: Snuba. You don't need a scuba license to go "Snuba diving". Snuba involves having a tank of air on top of a floatable device above the water that moves where you move and connects to your mask via a hose. A guide travels with you to ensure your safety and entertainment. You can safely plunge up to 4-5 yards below the surface!
Bungee Jumping:
Feeling gutsy and courageous? Want to cross something off your bucket list?  Climb up the platform, allow the professionals to attach you to the harness, and jump head first towards the sparkling sea.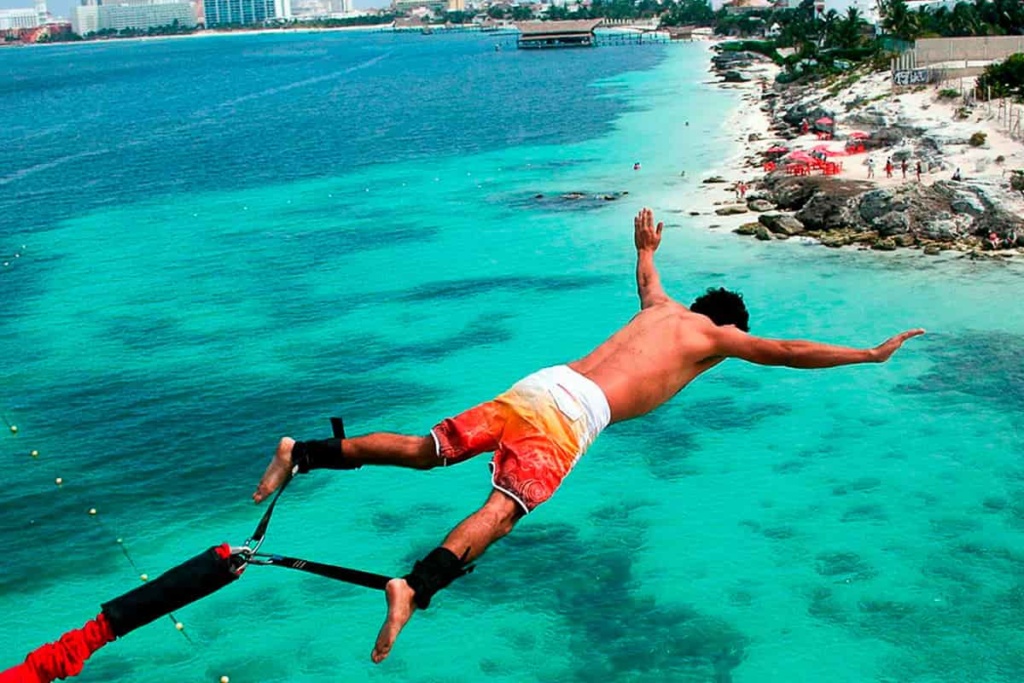 Cenotes:
Enjoy a quick dip in the fresh water cenotes situated all around Cancun. They're beautiful to look at and feel great to swim in, especially on a hot day.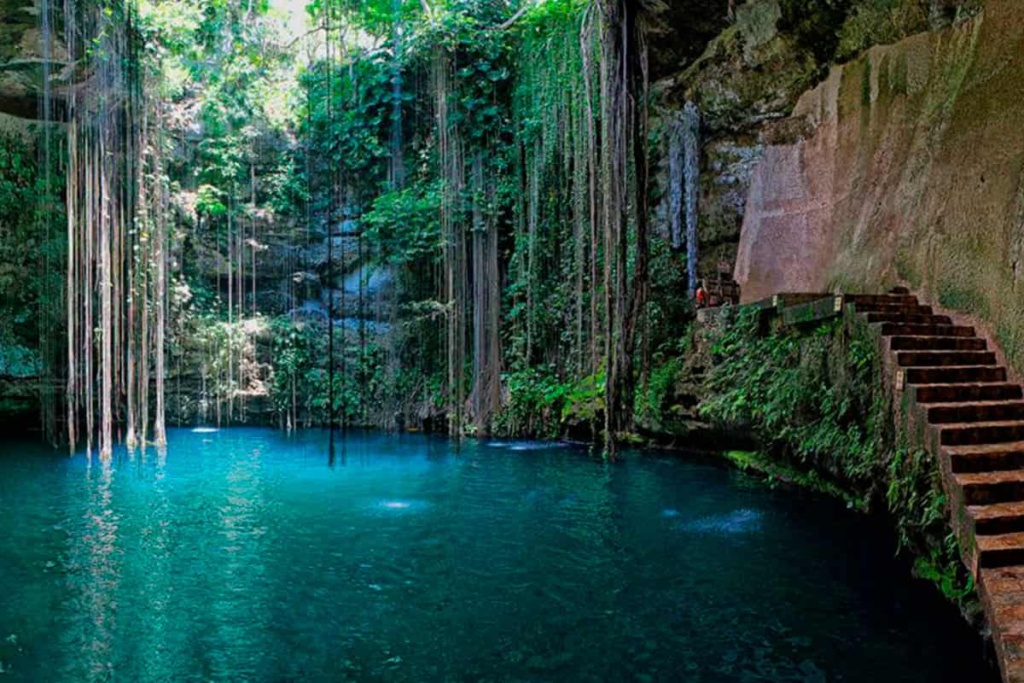 Stalactite Caves:
Take a guided tour inside of a cave that looks like it has "stone-icicles" dropping down from the ceiling of the cave. These "stone-icicles" called, stalactites, take millions of years to form, and are hypnotically mesmerizing to see in person.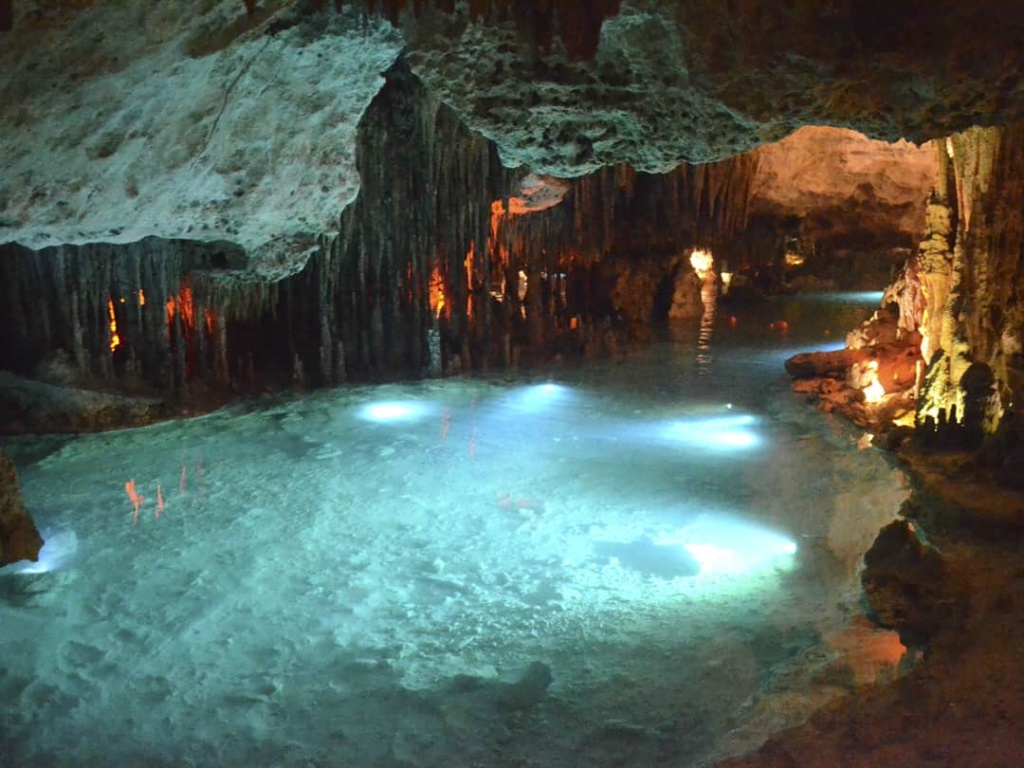 Ziplines:
Zip through the air at amazing speeds and impressive heights. Some you hold on, and zip over a large cenote, and let go at a predetermined spot, and drop into the water. Others, you strap on a harness, and you look down upon a forest canopy, only to finish by going through a waterfall!