Searching for the best open bars in Cancun?
You're in luck.
To make your life on vacation just that little bit easier, I've rounded up my favorite places in Cancun to enjoy bottomless drinks.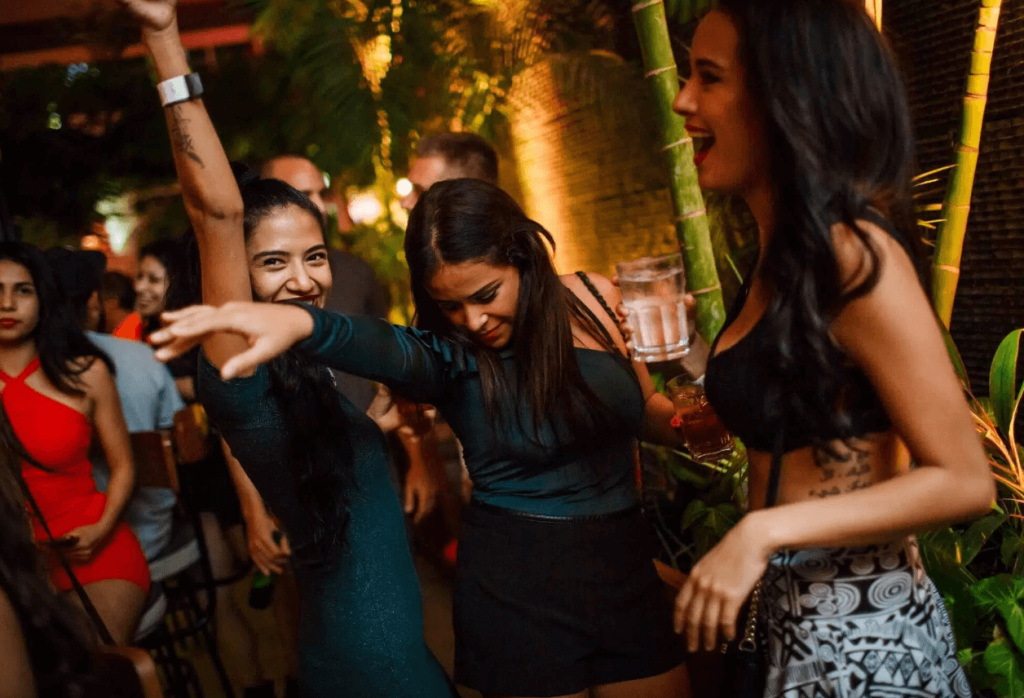 Why is Cancun so Popular with Tourists?
Vacations are the perfect opportunity to let your hair down, live a little, and escape the monotony of your everyday life.
Cancun has something for everyone.
City, beaches, attractions, park, and sun!
What more could you ask for?
It's the epitome of Caribbean bliss.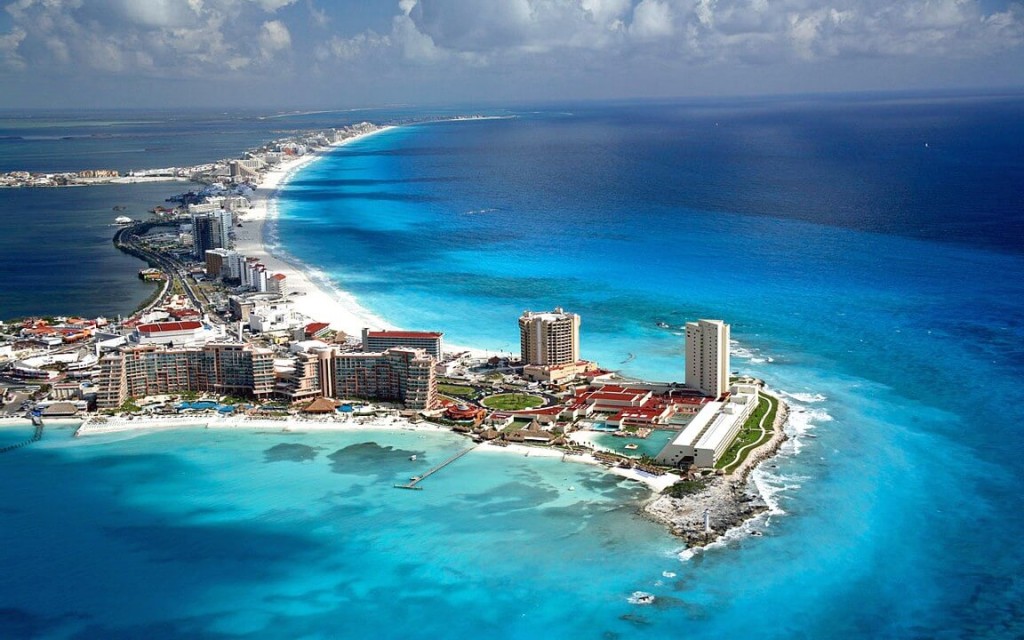 It's no wonder millions of people visit this part of the world each year.
Come and see what all the fuss is about for yourself. Get ready to pack your flip-flops and come and stay a while.
Drinking in Cancun
I don't know about you but I love having a drink or three on vacation.
It just helps me to relax, unwind, and have some fun.
That's what life's all about right?
When you think of an open bar you're probably referencing it to hardcore partying?
Don't get me wrong Cancun is celebrated for having some of the best nightlife in the world.
However, did you know that you can enjoy an open bar at some of the regions top attractions?
There's nothing like an ice cold beer after you've just been ziplining!
In this post, you will find something to suit the tastes of every traveler.
So, whether you are into hardcore nighttime partying or you prefer to relax with an ice cold drink during the day, I've got you covered!
So, let's get to the good stuff.
I can hear the bottles popping already.
The places I've listed all serve great quality drinks.
Please note: the weather here in the Caribbean is very hot so always stay hydrated and always drink responsibly.
The Top 10 Open Bars in Cancun.
That said, roll on the good times…
1. Coco Bongo
I bet you saw this one coming. Yes, Coco Bongo is the party phenomenon that EVERYONE raves about!
To experience the true essence of Cancun nightlife you have to visit Coco Bongos.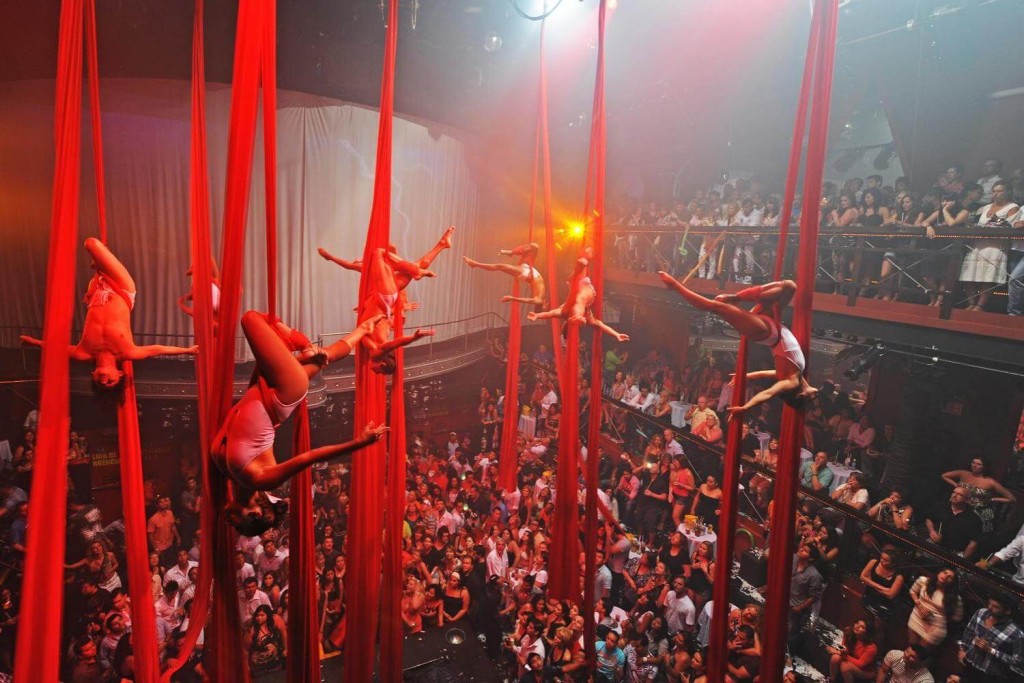 It's more than just your average nightclub, it's a Las Vegas-style show, in a disco environment.
It features live acts, extravagant visuals, and music to satisfy customers of all ages.
Bubbles and balloons add to the atmosphere and you can almost definitely expect to leave covered in confetti.
The doors don't usually open until 10.30am and the party continues into the early hours of the night,  so if you value a good night sleep I'd probably suggest sitting this one out.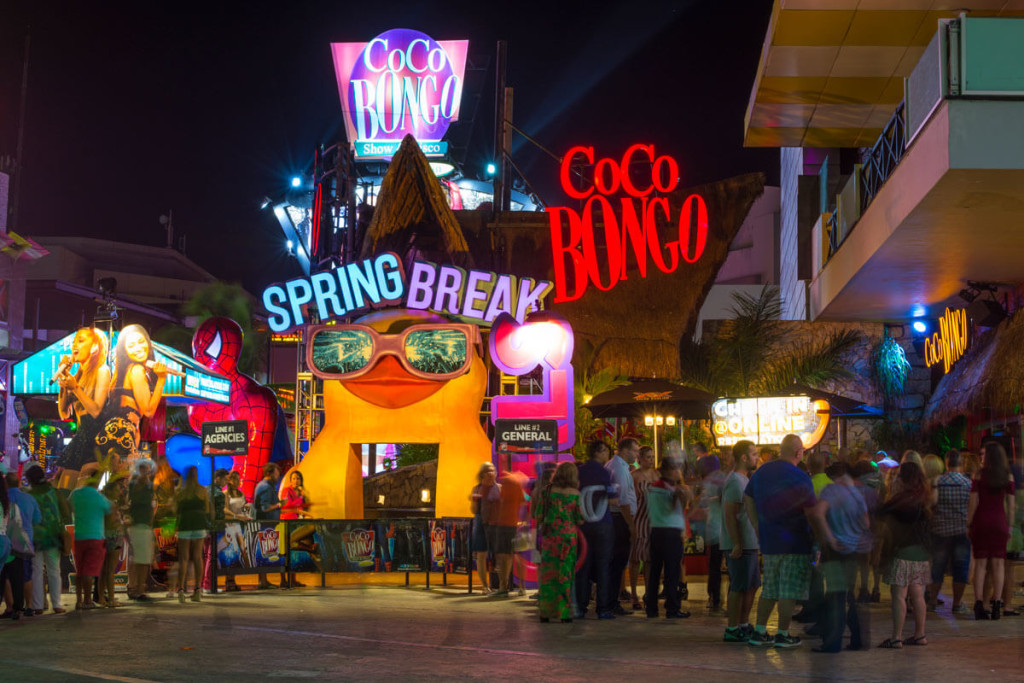 That said if you do manage to summon the energy you are guaranteed one hell of a night.
Ticket options do range depending on whether you want your own table or not.
The open bar includes beer and a variety of spirits and is great value for money.
Although I will say if you don't have your own table getting a drink isn't as easy as you may think.
It gets very busy and the waiters do have to prioritize customers with seats.
So just keep this in mind when booking.
Perfect for: couples/ singles/groups of friends.
2. Ventura Park
An open bar can be purchased at Ventura Park for as little as $7.85 USD.
Definitely worth it for ice cold beer on tap! It's very easy to spend the entire day at Ventura Park creating memories that will last a lifetime.
Not only that, if you are looking for a daytime activity that travelers of all ages can enjoy, look no further.

Ventura Park is one of the top attractions in the region and by far the best value for money.
The park itself is made up of 6 different world's.
Wet'n Wild Water Park –  The ONLY waterpark in the region boasting epic slides, a wave pool, lazy river and much more. Kids will love it here, heck, even the adults will to, I know I did! The perfect way to cool off on a sunny day.
2. Aaah! Ventura – This region of Mexico is celebrated for its epic aerial adventures such as zip lining, at Ventura Park.  You can fly through the air and experience the magic for yourself, swing like Tarzan, and traverse hanging bridges.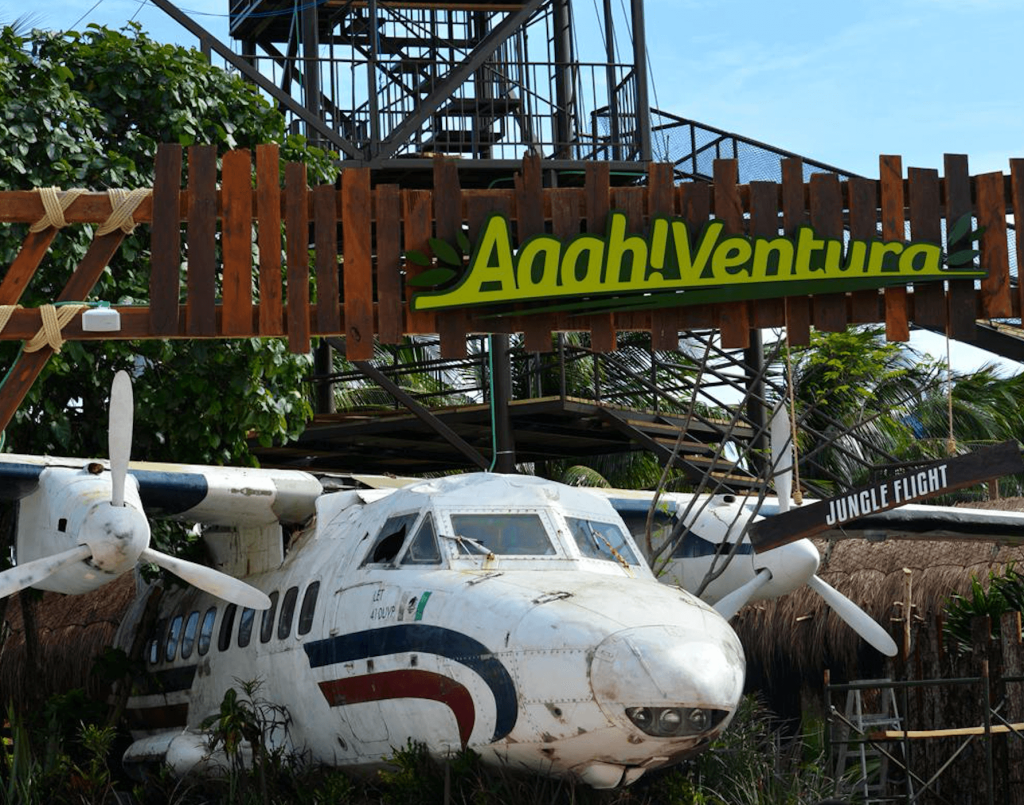 3.  Fun World – Perfect if you have younger children but want to have some fun too! Fun World was designed with younger children in mind and features a merry-go-round, crazy chairs, and kids playground.
4. Underworld – Do either you or your kids love gaming? Underworld is like being transported into the future of gaming. With the latest in VR tech as well as laser-tag inspired bumper cars, you're guaranteed oodles of fun!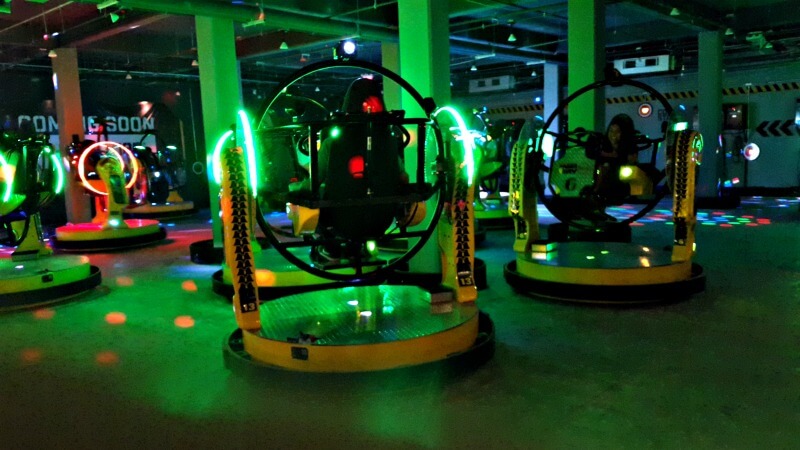 5. Grand Prix – Awesome for the petrol heads out there reading this. Race your compadres around the seaside go-karting track while enjoying views of the park.
6. Dolphinaris – Dolphinaris is the only world not included in the unlimited ticket type. However, it is on the same grounds of Ventura Park and provides you with the opportunity to make dreams become a reality by swimming with dolphins in one of the best dolphinariums in the world.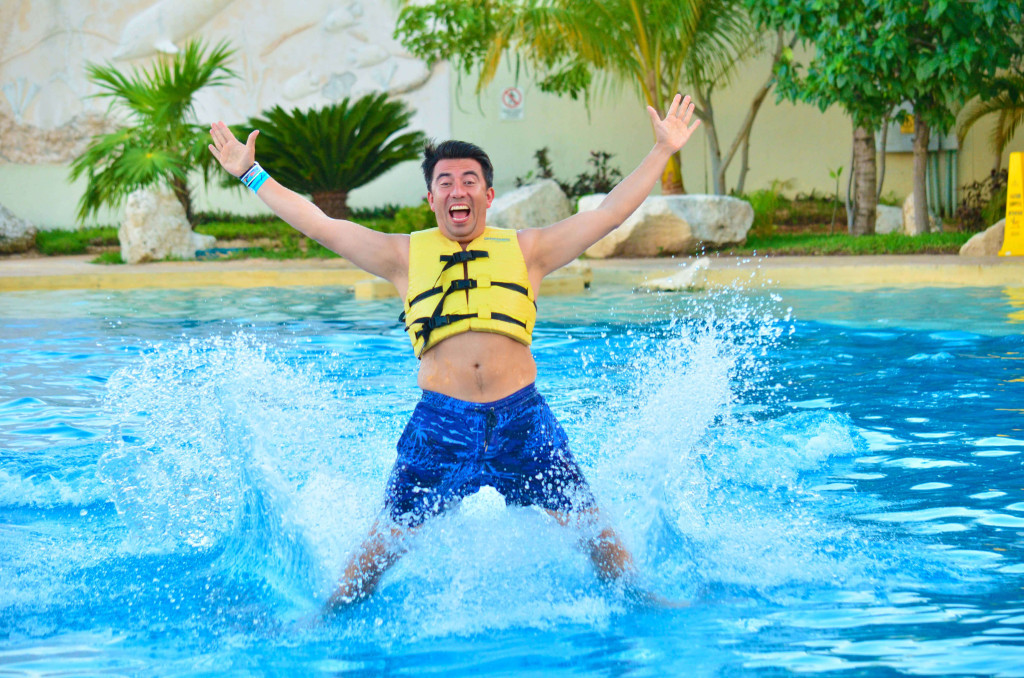 Opening Hours at Ventura Park 
The park is open daily from 10 am  – 5.30 pm.
Please note: Many of the attractions won't allow you entry unless you are completely dry so I would recommend saving the water activities until last.
Ticket Options at Ventura Park:
The Ventura Park Pass – the cheapest ticket option that grants you access to 3 of the 6 worlds at Ventura Park (Wet N' Wild, Aaah!Ventura, and Fun World).
Ventura Park Unlimited – the ultimate ticket option granting access to all 6 worlds (excluding Dolphinarius) at Ventura Park.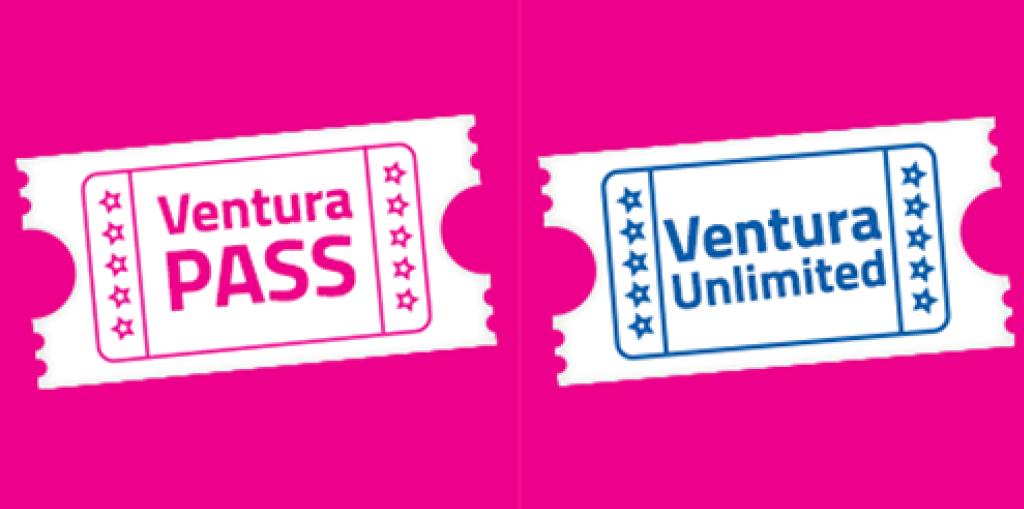 Pricing and how to save money before you purchase:
*Prices are shown in USD
Regular pricing for 'Ventura Park Pass':
Regular pricing for 'Ventura Park Unlimited':
Ventura Park is celebrated for their epic discounts so be sure to look out for hot deals on their discount page. 
Unlimited food and (soft) drinks are included in the ticket price.
 What's more is that Ventura Park is located in the hotel zone, meaning you don't have to travel far to enjoy it.
It's highly convenient.
Perfect for: families/ couples/ singles/groups of friends.
3. Mandala
If you want to escape the crowds of Coco Bongo but would still like to party and have a good time, Mandala offers a more authentic Cancun nightlife experience.
To enjoy the open bar you just pay a flat fee for admission upon entry and then it's bottomless drinks all night.
At Mandala, you can expect great music, drinks, and people!
It's not to be missed.
Perfect for: couples/ singles/groups of friends.
4. Grand Mambo Cafe
If you like to dance Salsa, Merengue and Bachata then look no further. Grand Mambo Cafe has it all!
Located downtown in Plaza Hong Kong, here you'll find live music Wednesday through till Saturday.
The open bar is only available on Thursdays.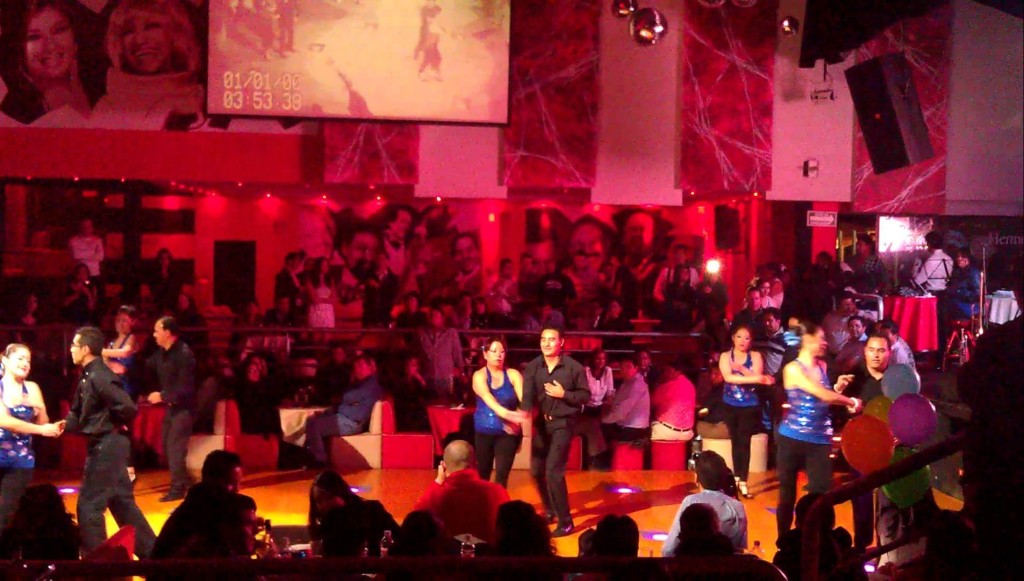 However, if you're celebrating something such as a birthday, if you make the reservation on a Friday they will give you a free bottle of rum, vodka, or tequila if 10 of your friends pay cover.
The deals don't end there, on a Wednesday, Friday, or Saturday if you arrive before 11 pm you'll get free cover and a free drink or two beers.
 Bottle service will get you a front row seat right next to the dance floor.
Enjoy live music every night of the week.
Perfect for: couples/ singles/groups of friends.
5. Congo Bar
Located right in the heart of all the action.
Don't miss a beat at Congo Bar in Cancun, it's party central around here and is always full of fun-loving locals and tourists all night long.
The bar itself is open-air, there's a nice breeze, and you can watch the world go by as you enjoy your drink.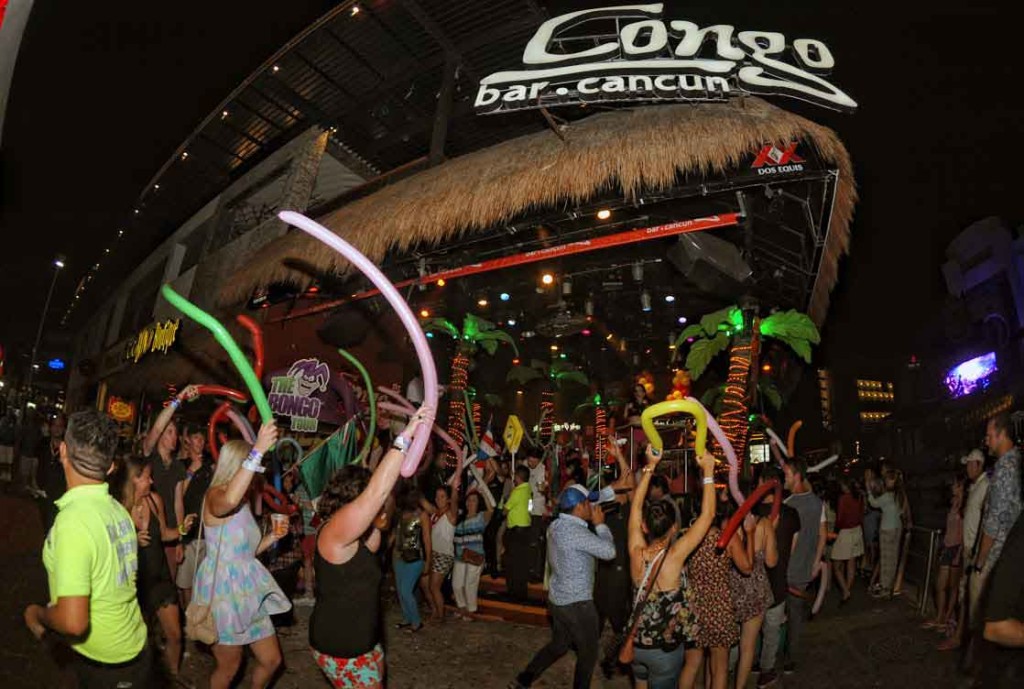 The drinks at Congo Bar are good quality and because the venue is smaller than other nightclubs in the area the prices are lower than usual. 
Also, because the venue is open from both sides you can check the vibe before you even enter.
There's nothing worse than paying a cover to a club and it is empty inside.
There isn't really a dance floor but it doesn't stop anyone from getting up and grooving.
Expect to see go-go dancers, shots girls, and every once in a while a burst of confetti.
So, enjoy your favorite drink and get ready to join the conga line.
Perfect for: couples/ singles/groups of friends.
6. Senor Frogs
Senor Frogs are celebrated worldwide, and we are lucky enough to have right here in Cancun!
They boast great venues where people from all over the world can come together, dance, sing, and let their hair down without any silly rules or regulations.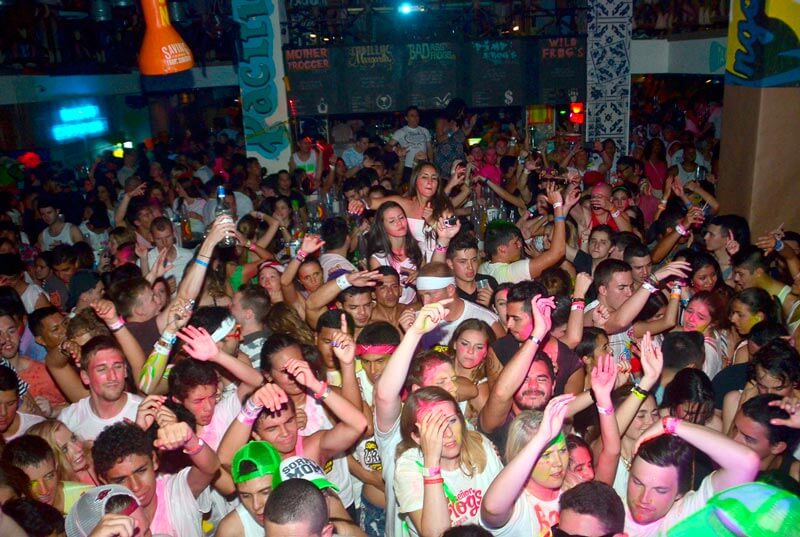 As they note on their website, their philosophy is simple "have fun, let yourself go and unleash your fiesta"!
Their open bar runs every day except Sunday and costs just $60 USD
Perfect for: couples/ singles/groups of friends.
7. Silverio Mezcal Bar
Get a taste of the real Mexican experience. Don't stop at tequila it's absolutely quintessential that you try a selection of Mezcal too.
Silverio is located in Cancun's hotel zone and boasts specialized mezcals, delicious drinks, and nightly house and electronic music.
Enjoy an open bar from 9 pm to 3 am for just $30 USD.

Drinks include a national selection:
Matusalem
Jose Cuervo
Smirnoff
Black and White
Recuerdo de Oaxaca
Perfect for: couples/ singles/groups of friends.
8. Cuncrawl
Cuncrawl isn't an exact location as such it's a tour service famous for it's all-inclusive "all you can drink" 5hrs open bar.
It's not your average pub crawl, you can experience the best-personalized nightlife in Cancun.
VIP entrances reserved tables, and an escorted bar crawl that includes 3 of the best bar/clubs in the area, not to mention bottle service in at least two of the venues of the night.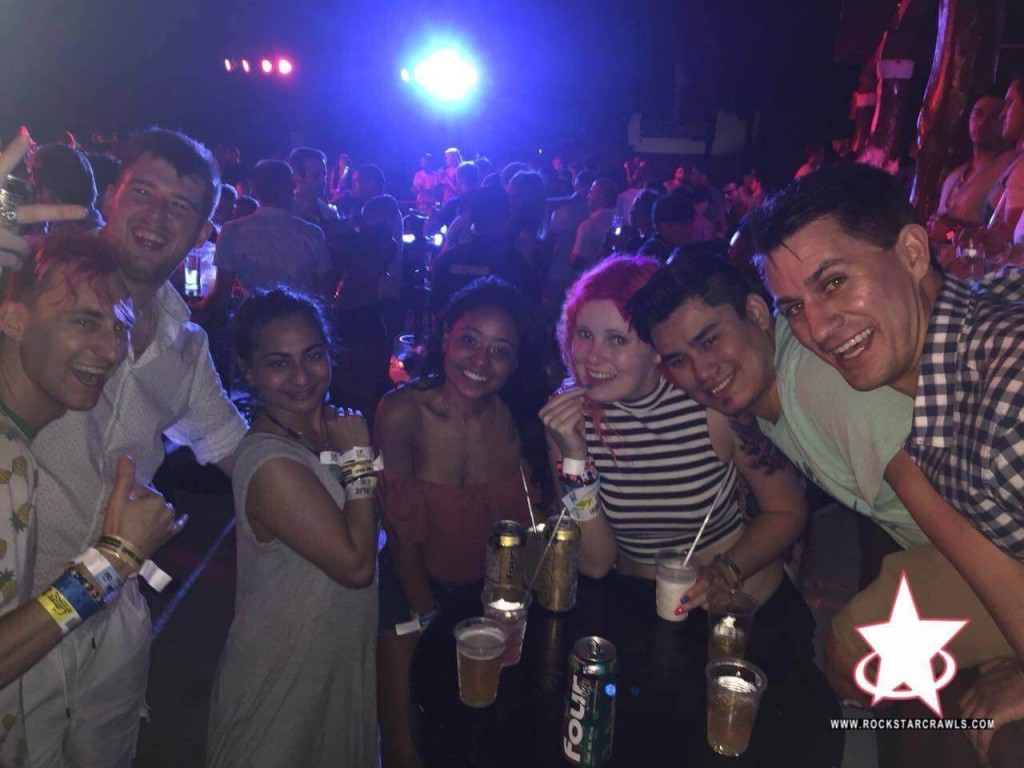 Perfect for travelers who don't like handling the logistics of a night out in a new place.
Prices range from $70-$80 dollars.
Perfect for: couples/ singles/groups of friends.
9. Captain Hook Cancun
Finding activities to please the whole family on vacation is no easy feat. Trust me, I've been there.
You want your kids to have a great time, but you don't want to be bored out of your brains either.
All aboard Captain Hook!
Prepare for an epic cruise of adventure + open bar.
Begin your cruise in Cancun aboard  El Bucanero or El Galleon!
These huge replicas of 18th-century pirate ships are impressive enough on their own.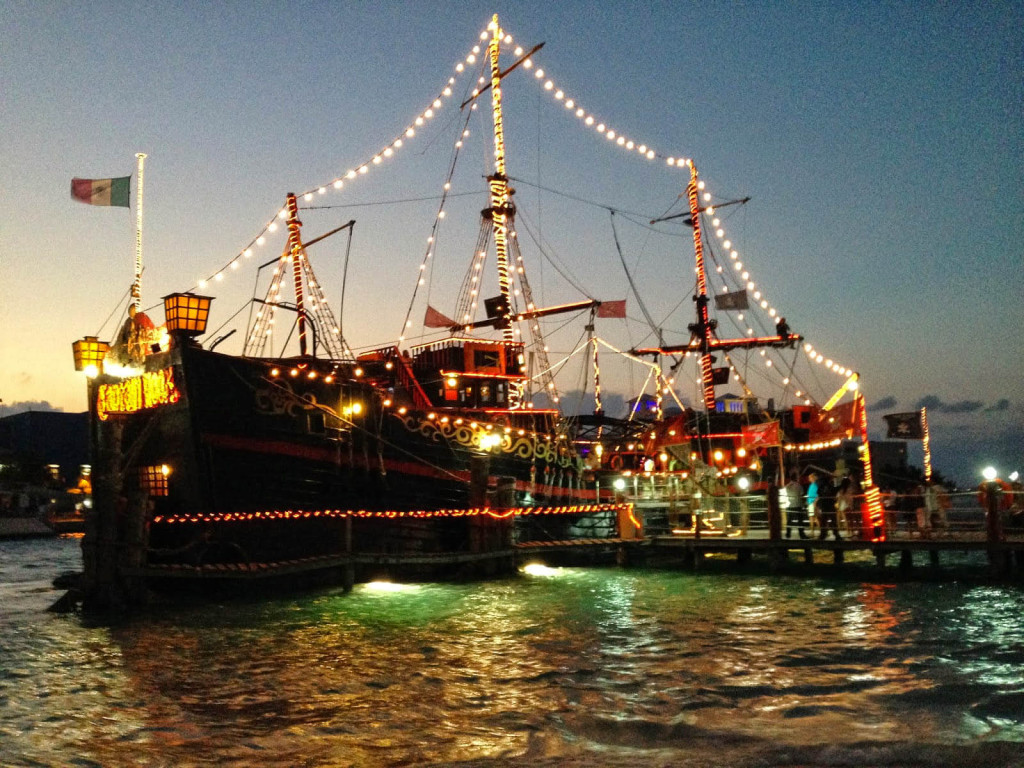 However, they've been specially adapted to feature all the latest modern amenities such as kitchen, lights, and full sound systems.
Sit back and relax with your favorite drink while your kids enjoy the ships pirate-themed entertainment.
You can admire the sun make its magical decent over the lagoon amid beautiful hues of the fading sunlight.
At night the ship comes to life.
Enjoy a fruity cocktail as you listen to Captain Hook share his fascinating backstory and tales of his adventures.
With real canon fires, you will feel as if you have been transported back in time.
Upon booking, you can choose from a range of food for your evening meal.
Choices include:
Lobster.
Chicken.
Steak.
Surf & Turf (a dinner fit for a pirate).
All accompanied with cooked vegetables, salad, baked potato, rice, and dessert.
Wash it all down with another drink as you enjoy the music, get involved in a pirate contest, and participate in games.
Before you return to shore, an enemy ship will approach and you will get to witness an epic battle between the two boats, complete with a dramatic sword fight.
Perfect for: families/couples/ singles/groups of friends.
10. Carlos n Charlies.
Head to Carlos n Charlie's on a Friday night if you love Salsa and live music.
For almost 40 years this venue has earned its place among the best legendary nightlife.
Famed for their dancing, great service, and drinking contests, CC is all about fun!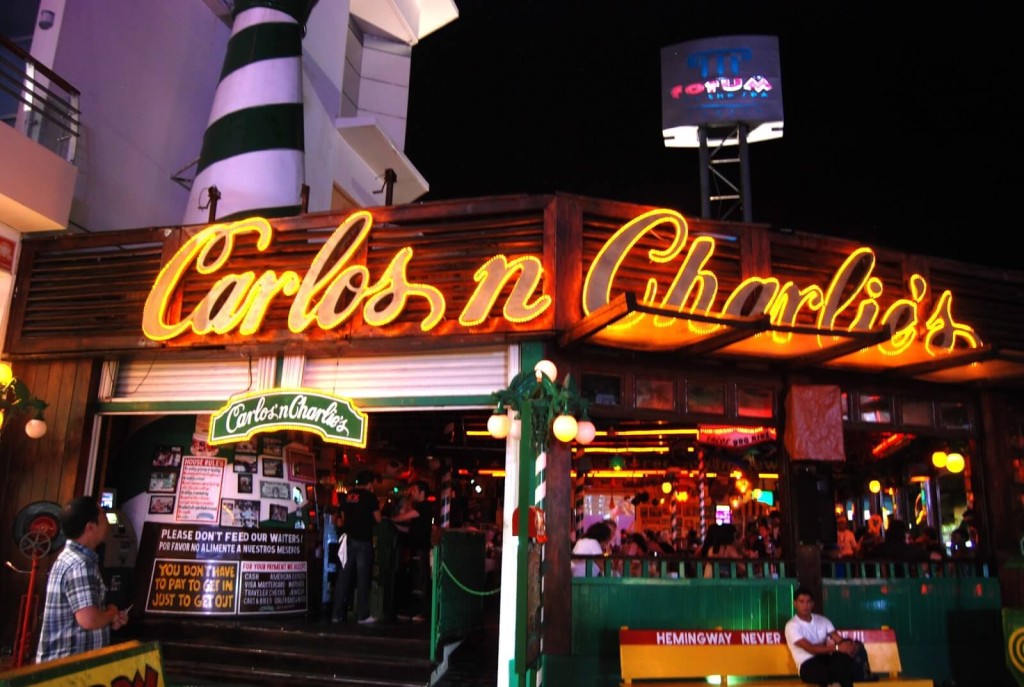 Open bar is available daily from 9.30 pm until close.
CC also serves up great food so why not head here for a bite to eat and party into the night afterward.
With conga lines, dancing on tables, flaming shots, and more you don't want to miss out on this experience.
This place enjoys a privileged position in the Cancun Hotel Zone meaning that you don't have to travel far to enjoy the fun.
Perfect for: couples/ singles/groups of friends.
Enjoy the Best Open Bars in Cancun
So, there you have it. Our line up of the best places to enjoy an open bar in Cancun.
Now that you've finished reading let the fun times commence!
If you feel like we missed one of your favorites off the list be sure to let us know in the comments section below we would love to hear from you.
Happy vacationing!