You're looking for a good and honest review of Ventura Park (Cancun) for one of two reasons:
It's crazy cheap in comparison to other tours and you want to know WHY.
Or
2. You're curious about what to expect when you arrive.
At least this was true in my case.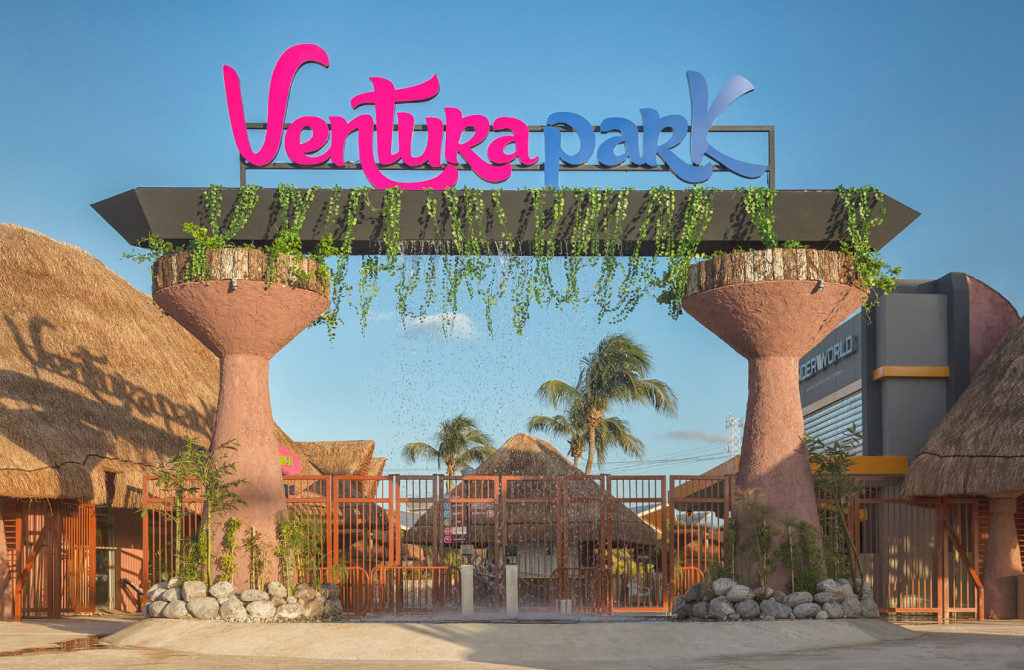 Planning a Trip to Cancun?
When traveling anywhere, I plan!  It's what I do best.
I understand some people just want to float through their vacations day-by-day but when you've got kids, it doesn't really work like that for me.
I like being organized, and getting the most bang for my buck. 
When planning for our family vacay to Cancun late last year I was doing my research on 'things to do' when I stumbled across Ventura Parks website. 
It sounded like a great match for me and my family and for $39 I was like 'heck, count us in'!
However, I'll be honest I was a little dubious. It was a lot cheaper in comparison to other attractions I had been looking at and I started to wonder if there was a reason for this or not.
Was it a flop?
I scoured the depths of the internet looking for a decent and detailed review of Ventura Park, to no avail.
In the end, I took the plunge. We booked online. It was super affordable, and I just thought 'well, there's not much to lose'.
Safe to say it was a great decision and here's why.
After such a pleasant experience I feel obliged to create my own honest and detailed review in the hopes that it will help other travelers make the best decisions for them.
One thing I wish I had known before visiting the park is that there are certain areas such as 'Underworld'  where you cannot enter once wet.
It wasn't a huge issue for us, but I just wish we had known so we could have planned the day better.
My recommendation is that you save the water activities till later on in the day.
Ventura Park is made up of 6 worlds, all of which I will detail below.
Once you've learned more about each world and what it entails you can plan your day accordingly so you get the best possible experience during your visit.
Where is Ventura Park?
Ventura Park is located in the hotel zone of Cancun (close to the airport).
You have 3 options to get there :
You can pay an extra cost per person for the roundtrip transportation. The cost depends on your hotel's location.
Take the free bus and go to the meeting point for a specific time. This option only applies to the Hotel Zone in Cancun, not for Riviera Maya or other locations. Consult the link to check pick up times and meeting points:

http://www.catchyourride.com.mx/

Get your hotel to arrange a taxi (decide the price before you get in to avoid any surprises).
We chose to get the free bus, this worked perfectly for us, it was on time, comfortable, and air-conditioned!
The location was a huge benefit to us as my kids tend to get very bored and restless during long journeys.
We had arrived in under 20 minutes, and everyone was happy!
How much are tickets to Ventura Park?
At Ventura Park in Cancun, there are two types of tickets available to buy.
The Ventura Park Pass – this ticket grants you access to explore 3 of the 6 worlds at Ventura Park (Wet 'n Wild, Aaah!Ventura, and Fun World).
Although your options are slightly limited it's still a really great day out at an affordable price. With this ticket, you and the family can enjoy the world-famous waterpark, featuring exciting slides, and epic wave pool. Plus, access to Aaah!Ventura where you can traverse adventurous zip-lines, bungees, and aerial bridges!
Ticket prices: 
ADULTS: $45.45 USD
CHILD: $40.10 USD
MY TOP TIP: Book online to save up to 30%. Online prices up to $32! Just head to VenturaPark.Com
2. Ventura Park Unlimited – This ticket grants you access to everything from the Ventura Park Pass, PLUS you get unlimited access to the Grand Prix Go-Karts, and the futuristic arcade called Underworld.
Underworld boasts the latest in Virtual Reality Technology and has a one-of-a-kind 'Laser Tank' activity (think laster tag meets bumper cars) – more on that later.
Ticket prices: 
ADULTS: $64.17 USD
CHILD: $45.45 USD
MY TOP TIP: Book online to save up to 30%. Online prices up to $39! Just head to VenturaPark.Com
We went for the unlimited option when we booked online because the price difference was next to nothing, and I think it's well worth it for the activities it included.
Pricing of both tickets includes all food and non-alcoholic drinks. 
Extra costs:
Some hidden costs worth a mention include things like:
Towel Locker Hire: To rent a towel and a locker is extra and roughly between $6-$15 depending on the season.
Dolphinaris: Although Dolphinaris is included in 1 of the 6 worlds at Ventura Park neither of tickets includes the 'swim with dolphins' activities in the price.
This is extra.
I will detail a list of their prices later on.
My advice would be to go prepared and take extra cash with you.
Food & Drink at Ventura Park (What's Included)
In total there are 10 places to eat and drink throughout the park, however, only the Sunrise buffet is included with the ticket, which is open from 11.00 am to 13.00 pm, and 14.30 to 17.00 pm.
Here you can find a great range of options to suit everyone's tastes.
Things like hamburgers, hot dogs, salads, rice, burritos, enchiladas, chicken dishes and other goodies.
As you can expect from all of the touristic attractions in the region, the restaurants don't boast 5 star Michelin dishes but dining facilities are clean and comfortable, the staff provides a fantastic service, and there is enough variety to please the entire family.
It's unlimited, and great value you for money when you think about everything that is included in the park.
Adult guests can add an open bar with alcoholic drinks to their ticket for just $7.85 USD.  Definitely worth it for ice cold beer on tap!
If you don't mind paying a little extra for food you can also find great Italian, Seafood, and Ice Cream Bar options throughout the attractions.
For a full breakdown of eateries and options visit their website.
Beach
Many people wonder if there is a beach at Ventura Park, unfortunately, there is not.
However this is an oceanview attraction, and you can smell the sweet salts of the Caribbean sea in the air as you walk around.
Not only that the park features an incredible wave pool that produces waves up to 9 ft high!
Also, at El Beach ' O bar there are several areas you can get some well-deserved RnR and soak up the glorious rays of the Mexican sunshine.
There was so much going on at the park that neither I or my kids really missed the beach, we just saved that for another day.
Wet n' Wild Waterpark at Ventura Park
At Wet 'n Wild, there are tons of awesome waterslides. Your kids will love it, heck, even the adults will too! I know I did.
Ventura Park is the ONLY attraction within the hotel zone in Cancun that offers such amazing water activities.
We loved Wet 'n Wild and made memories that will last a lifetime. Prepare for thrilling drops, exciting curves, and to make a splash at this attraction!
Whether you want thrills or time to unwind there is something for everyone.
I felt comforted letting my teenagers roam free on the slides knowing how many safety restrictions were in place and the number of certified lifeguards around.
For thrills be sure to check out: 
Twister: a 2-person inner tube that twists and turns down the slide at quite some speed.
Kamikaze: a steep speed drop slide.
Bubba Tub: A giant inner tube slide (4 people, perfect for the whole family) with surprising dips and a refreshing landing.
Double Space Bowl:  50 ft drop slide at 30 mph (adrenaline junkies only).
More relaxing options include: 
Lazy River: Sit back and enjoy floating along a calm tranquil river for over 330 yards.
Wave Pool: Perfect for those who love the ocean. This pool generates waves up to 3 ft high!
Kids' Park: Great for toddlers or smaller children.
Wet Bubble: Climb a giant inflatable bubble and be rewarded with a fun slide back down.
Minimum height restrictions:
Kamikaze 1.22 mts.
Aqua Challenge 1.50 mts.
Bubble Up 0.95 min. – 1.50 max. 
Twister, Double Space Bowl, Bubba Tub: 1.07 mts.
Things to bring:
Swimsuit
Sandals
Towel
Sunscreen
Extra money for souvenirs, locker rental, single inner tubes, and towels.
Fun World (Activities for Smaller Children)
Big fun for small children.
At Fun World, your tiny tots can experience good old-fashioned family fun.
You and your little one can:
Ride Cancun's only roller coaster
Soar right over the Caribbean Sea in our flying swing chairs
Hop on a classic carousel ride
Enjoy time in a kid's playground
It's a great place to relive old memories and create new ones too.
At Fun World you are only allowed on the rides if you are completely dry, shirts and shorts are required (no bathing suits) and closed footwear is also recommended.
Grand Prix (Go-Karting at Ventura Park)
Petrol heads, rejoice! This was definitely my husband and my son's favorite world.
Not only do you get to race around on go-karts, you get to do it at an awesome oceanfront location.
The karts go up to 25 miles per hour and the tracks have been designed for the perfect blend of speed and challenge.
The facilities proudly boast the latest in safety equipment and technology.
Things to note:
Your child has to be at least 14 years old if they want to drive their own kart.
You have to be 100 % dry to enter, and no swimsuits are allowed strictly shirts and shorts.
It's great for teenagers and your family will have lots of fun competing to be the best driver!
We definitely did.
Underworld (Futuristic Arcade at Ventura Park)
My kids were blown away by the virtual reality facilities at Underworld.
This place is great for kids who are into gaming.
At Underworld, the future is now.
This state-of-the-art gaming center is full of awesome attractions guaranteed to keep your kids happy for hours.
Attractions at Underworld include: 
 1)  VR Evolution
The latest in virtual reality that has made its way to Cancun. Be transported to another world where you can conquer a digital reality by running, jumping, and defeating your opponent before they get to you.
Enjoy one of the two following virtual reality games in Cancun:
Horror Game: Affected
Adventure: Acan's Call
2. The Mission
Become a secret agent for the day and use your stealth to sneak through an intricate laser maze. Be the first to complete the mission to show your friends who the top spy is.
3. Laser Tanks
Forget bumper cars, that's so 1990s. Laser Tanks is where it's at! Think Laser Tag meets Bumper Cars with this fun and innovative creation.
It's a great game for all the family, keep your eyes peeled,  one shot from your enemy will send you and your futuristic tank reeling and spinning!
3. Star Wars Battle Pod
Star Wars fans will think Christmas came early as they experience the legacy firsthand. Choose from an immersive arcade game that features a dome-shaped screen enveloping the player's entire line of sight, or you can select a more traditional, open control area. The game includes five stages that recreate the most iconic battles from the original trilogy.
Things to note: 
You have to be 100% dry to enter the arcade so I'd recommend that you visit Underworld in the morning before you do any of the water activities.
No sandals or open toe footwear is allowed.
Aaah! Ventura
Aaah!Ventura was the highlight of the park for me. We got to swing like Tarzan on adventurous zip-lines, bungee, and traverse across aerial bridges.
It will definitely get your adrenaline pumping and leave you wanting to come back for more.
I loved how attentive and encouraging the staff were because I'll be honest, heights are not my strong point but they made me feel safe and I had tons of fun.
These are the only zip-lines in the Cancun Hotel Zone and Aaah!Ventura is the perfect family adventure to do together.
Attractions: 
Tanzania:  a combination of roller coaster and an 800- foot zip-line.
Caribbean Zip: Traverse across the entire park at an impressive height of 80-feet on these 4 side-by-side zip-lines.
River Zip Line: Two rows of zip-lines will take you on an 800-foot round trip ride over the famous Lazy River.
Escape Challenge –Skywalk North/South: Ever seen those rickety, wobbly bridges in movies? Do you dare to walk across the 6 hanging bridges? Here's a tip: don't look down!
Netland: A bridge course made just for kids & the young at heart; make your way across 9 bridges surrounded by nets on this safe yet adrenaline-filled adventure.
Step Up: An activity that tests your skills as you climb up higher and higher trunks, while anchored to a safety system the entire time.
Bungee Swing: Half free fall madness, half swinging the pendulum. Strap on, and hang on for a 46-foot drop that is sure to get your heart pumping!
Heli Jump: Want to shorten your bucket list? Conquer fear by bungee-jumping into the unknown at a height of 72 feet! (Not recommended for people with heart conditions).
Things to note: 
Children under the age of 7 must be supervised and/or accompanied by an adult at all times.

Footwear required.
Shorts and shirt is required.
Minimum height:
Tanzania, Caribbean Zipline, HeliJump, Skywalk, Step Up: 5 feet
River Zipline, Free Fall Station, Bungee: 3.5 feet
The above activities run during set hours and might not all run simultaneously.
Dolphinaris (Swim with Dolphins)
Make your dreams come true and swim with dolphins at Ventura Park.
I've never been into the whole swimming with dolphins thing but my kids had been begging me and my husband to do it for weeks and weeks.
Despite my own beliefs I was pleasantly surprised by the wealth of research and good things going on at Dolphinaris.
They offer different dolphin programs to suit different ages.
I have to say the encounter was incredible, it is one of the best Dolphinariums I've ever seen and the trainers were extremely knowledgeable.
Here is a break down of the different programs they offer:
The Dolphin Interactive Program  – Price $99 USD PP
This program is designed especially for small children and people that are not able to swim.
It lasts one hour and includes: 
Dolphin orientation session
Introduction to dolphin behaviors & physiology
Dolphin kiss & fin shake
Personal time with dolphins
2. The Dolphin Swim & Ride Program – Price $119 PP
The Dolphin Swim & Ride is a mild program great for adults and kids, it lasts one hour and includes:
Introduction to dolphin behaviors & physiology
Dolphin orientation session
Dolphin kiss & fin shake
Belly ride
Mask for underwater viewing
Personal time with dolphin
Minimum height 1.22mts / 4 ft
3. Dolphin Swim Program – Price $149 PP
The Dolphin Swim Program is great for teenagers and adults, lasts one hour and includes:
Introduction to dolphin behaviors & physiology
Dolphin orientation session
Dolphin kiss & fin shake
Foot push or Dorsal Ride
Personal time with dolphin
Minimum height 1.22mts / 4 ft
4. Trainer For the Day  – $209 USD PP
The Trainer for a day is the most complete and educational dolphin experience. During its 7 hour duration you will have included:
– Dolphin orientation session.
– Introduction to dolphin behaviors & physiology.
– Dolphin kiss & fin shake.
– Foot push or dorsal ride.
– A 20-minute dolphin dive experience.
– Behavioral Training session.
– Personal time with dolphins.
– Training basics.
– Behind the scenes tour.
– Program certificate & T-shirt.
– 2 complementary program photos.
– Complimentary food & beverages.
– Minimum height 1.22mts / 4 ft and 12 years old
Prices are the same for both adults and children.
No matter where you go in Cancun or the Riviera Maya souvenirs for tours like this (such as photos or videos) are always a little steep. But it was a small price to pay for the memories that will last me and my family a lifetime.
Overall it was a fantastic experience and I would definitely do it again in a heartbeat.
Conclusion
Things we LOVED: 
The fact food and drink was included in the price.
The different range of different activities (from relaxation to adrenaline-pumping zip-lines).
The friendly and encouraging staff.
There was something to suit ALL ages.
The free bus.
The price!
Location.
Things I think Ventura Park could improve: 
More awareness about you having to be dry to enter some of the attractions.
Overall, I would definitely recommend Ventura Park to families looking for an affordable action-packed day out. 
You can find many of the regions highlights all in one place at Ventura Park and the value for money is just insane.
In hindsight, I just wish we had planned the day better, but that is one of the reasons I decided to write this review so you don't make the same mistake!
If you're looking for the best family deal in Cancun then Ventura Park offers small prices and big attractions that no other tourist hotspot can match. It is well worth your consideration.
I hope this helped. Let me know in the comments section if you are thinking about visiting, or have been before. I would love to hear from you. 🙂